Hello,
I was following the instructions to activate Nuitrack on my Android device, but after pressing "Compatibility Test" the screen turned black and the test won't complete.
Below is the screenshot before the test: (System time check: OK)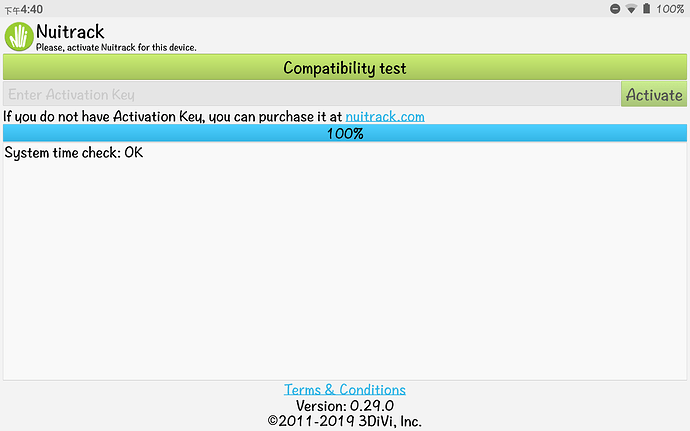 The app didn't crash though, as I pressed the back button it went back to where the app got started, and the activation key entry was grey. Below is the screenshot after I pressed back. (it said "Test completed" but actually nothing happened)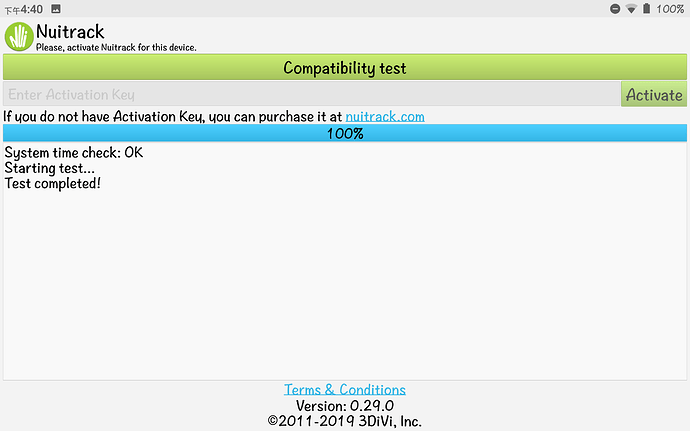 Some other information:
Android device: Samsung Galaxy Tab S SM-T700
Depth sensor: Orbbec Astra
Android version: 7.1.2
Nuitrack.apk version: 0.29.0
USB OTG support: Yes
Device rooted: Yes
Any pop-up window: No
Set 777 permissions for USB devices: Yes
Link to my Logcat: https://drive.google.com/file/d/1hYpcx8MbALfL5sMt3Cpl2qAIgr0_yTHC/view?usp=sharing
Has anybody got similar problems on Android?
Thanks,
Andy