Hello,
I am trying to run nuitrack_csharp_example for the first time. I am using the RealSense D435 camera with Windows 10, Visual Studio 2017 x64. I have activated my Nuitrack license, followed the README file and this thread to complete my setup thus far.
The project builds in Visual Studio and I copied the nuitrack_csharp_example .exe to the parent folder as seen in the following screenshots: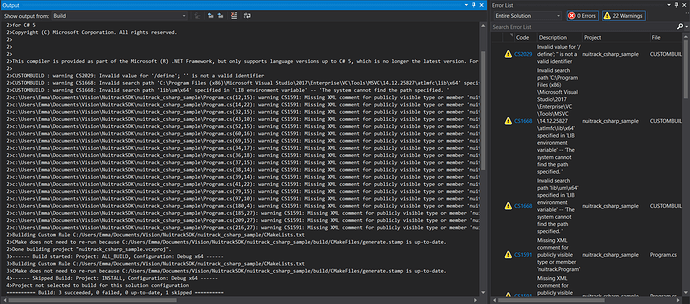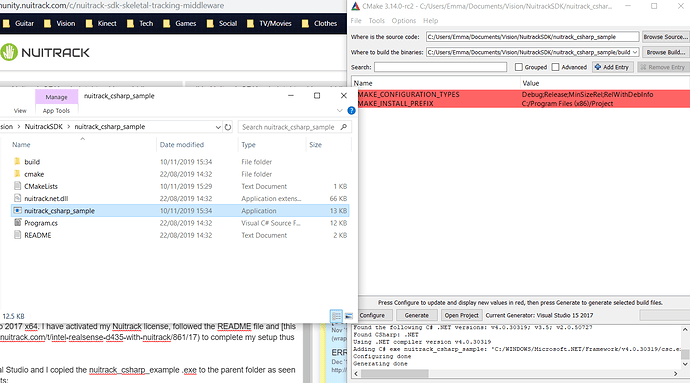 When I run the nuitrack_csharp_example.exe from the nuitrack_csharp_example folder with my Intel camera plugged in and ready to go, this is the exception I am receiving:
SETUP - COM already setup - threaded VI might not be possible
Create DepthProvider: Realsense2DepthProvider

Unhandled Exception: System.Runtime.InteropServices.SEHException: External component has thrown an exception.
   at nuitrack.NativeImporter.nuitrack_CreateUserTracker(IntPtr& ptr)
   at nuitrack.NativeUserTracker..ctor()
   at nuitrack.UserTracker.Create()
   at nuitrack.MainForm..ctor()
   at nuitrack.Program.Main()

The program exits shortly after that.
I hope you will be able to help me with this issue, and I am happy to provide any further information required.