I'm trying to activate the license on Debian Stretch with a small installation and I'm unable to enter the license code after the compatibility test finishes. The test finishes within a second without any errors, the terminal however does show two errors about SSL. The camera itself and Nuitrack work themselves, I can run the demos and my own tech demo for 3 minutes.
I've already tried different libssl/crypto versions to resolve the Qssl error issues. Do I need any other libraries installed?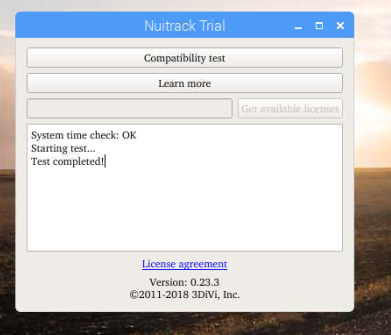 (I can't post two images, so:)
The terminal says:
sudo -E nuitrack_license_tool
QSslSocket: cannot resolve SSLv3_client_method
QSslSocket: cannot resolve SSLv3_server_method
I've followed the Ubuntu installation instruction.
And the steps for the activation as per "Nuitrack license" e-mail.