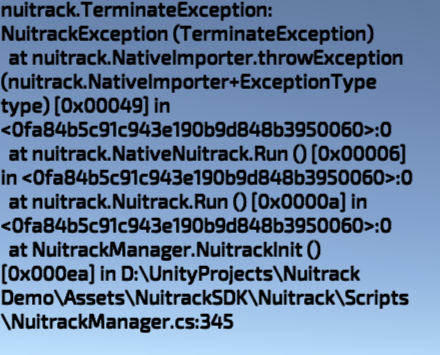 Again the same issue as many faced.
1.Using unity 2019.4.12
2. intel realsense d455 (the viewer works) (sdk- latest)
3. nuitrack (trial licenses, activation tool and nuitrack_sample works)
4.windows 10
I have done all things according to the docs, set all paths, I successfuly run BasicSkeleton example scen in the Editor.
When i built it for an 64 bit device i recieve the above exception inside the NuiTrackManager script at the niutrack.Run function.
Why is that happening?
The only think I am not sure i have done it correctly is that according to the docs you should copy .bin., .data, and .middleware folder into your <app_dir> and then give the path "<app_dir/data/nuitrack.config>" in Init()
For the <app_dir> i have chosen the forlder of the project where assets, library, project settings,… are