EDIT: the issue below was fixed by setting the correct PATH directory for the latest nuitrack; I had the environment variable accidentally pointing at an older existing directory for nuitrack.
I downloaded this file: nuitrack-win64.zip (2018-06-08 18:48).
I tried to run nuitrack-win64\nuitrack\bin\nuitrack_c11_sample.exe, but I got this error:
---
DepthProviderManager: Can not create OpenNI depth generator (OpenNI Status: Can't create any node of the requested type!)
DepthProviderManager: API version mismatch: librealsense.so was compiled with API version 2.11.1 but the application was compiled with 2.10.3! Make sure the correct version of the library is installed (make install)
ERROR: Can't configure DepthProviderManager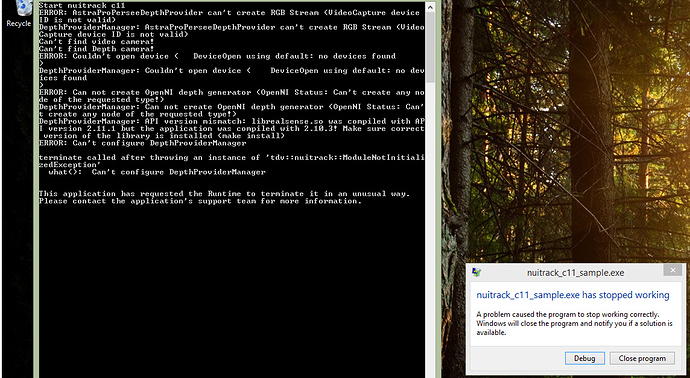 ---
To work around this issue, I had to replace the file nuitrack-win64\nuitrack\bin\realsense2.dll with the file from the version 2.10.3 of the Intel RealSense SDK.
Please fix this on future releases, thank you.