Environment:
Windows 10
Visual Studio 2019
Orbbec Astra Pro
Trial License
Hi, I just downloaded the Nuitrack SDK and I wanted to run some of the samples in Visual Studio using my Orbbec Astra Pro. I've downloaded Nuitrack and the appropriate Orbecc driver. I have been able to run the .exe sample located in the nuitrack install folder in Program Files.
I followed the README instructions and built the sample using cmake. After that, I opened the sln file using Visual Studio 2019. Whenever I start debugging, this error message is displayed…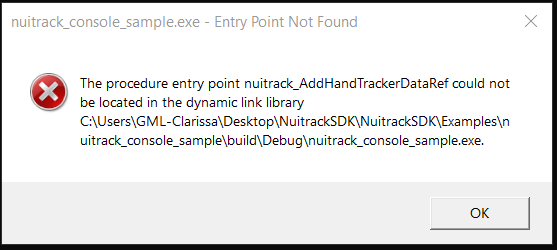 I analyzed the sample .exe file using a dependency walker and it says that libnuitrack.dll has missing imports.
I would really appreciate some help with this, thank you